Note: This post contains affiliate links. As a Huion, XP-Pen and Amazon Affiliate I get commissions for purchases/signups made through links in this post.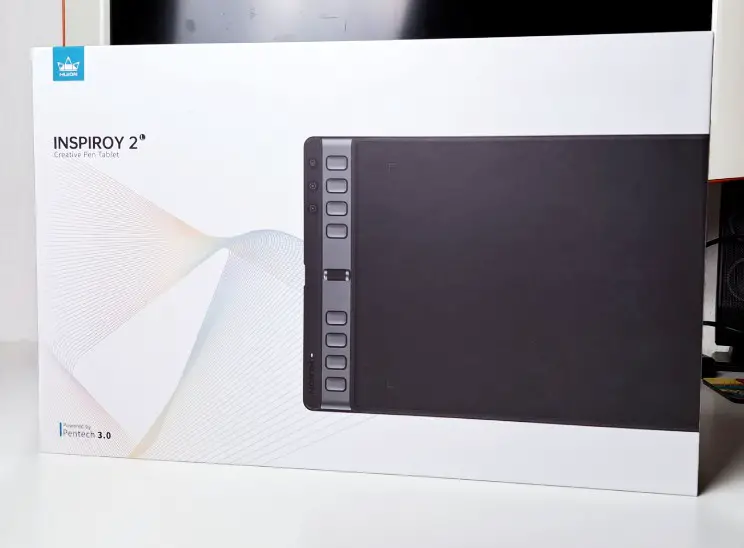 Last year I got an XP-Pen Artist Pro 16TP – a super awesome display tablet.
Now, the people at Huion were nice enough to send me the Inspiroy 2 L to review.
So, will an inexpensive beginner tablet be able to convince me… after using a high-end display tablet for a whole year?
Let's find out!
Here's the rundown:
Huion Inspiroy 2 L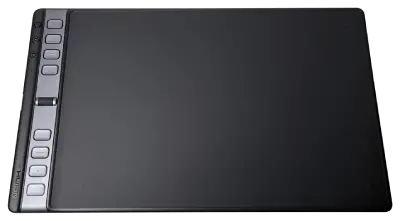 The Huion Inspiroy 2 L is a low-priced, but great beginner tablet. It's super easy to set up and it has a very natural feel. Full recommendation!
Pros:
✅ super easy installation
✅ smooth drawing performance
✅ drawing feels "paperlike"
✅ handy scroll wheel
✅ "endless" button combinations
✅ great price-performance ratio
Price: $89,99
Rating: ⭐️⭐️⭐️⭐️⭐️ (5/5)

1. What's Inside
The packaging isn't as awesome as I've seen on other tablets – there's no custom artwork or anything like that.
But the box does look professional with a basic, but clean and modern design.
Let's take a look at what's inside: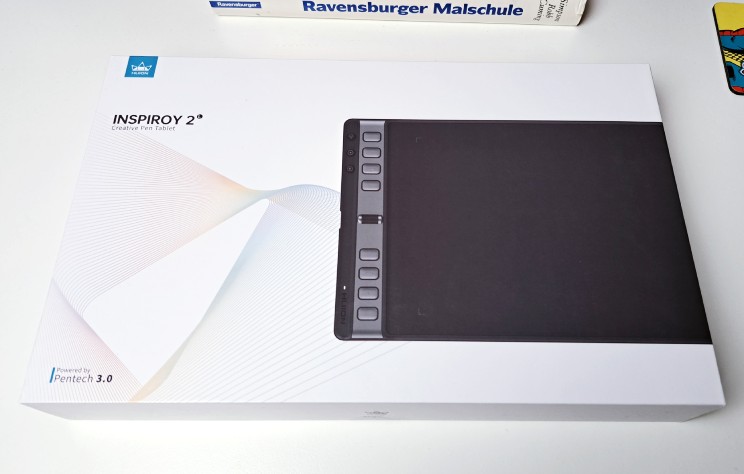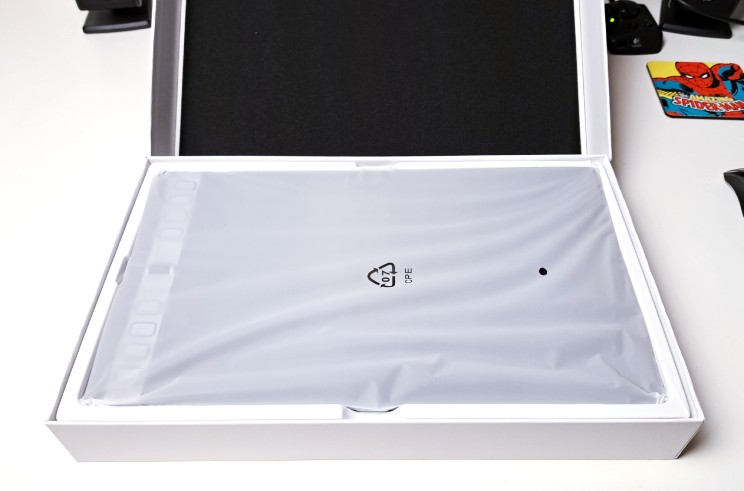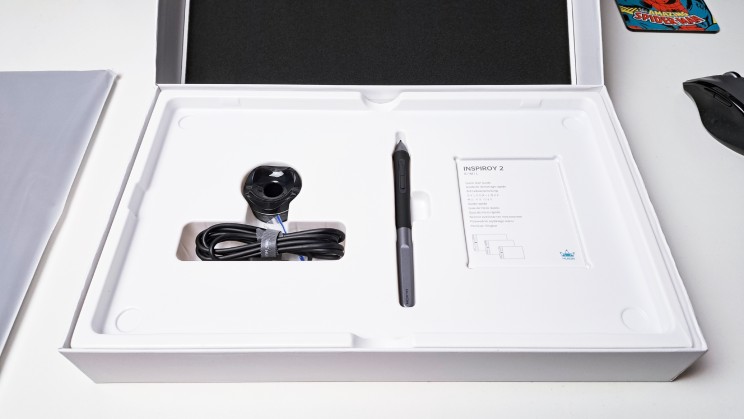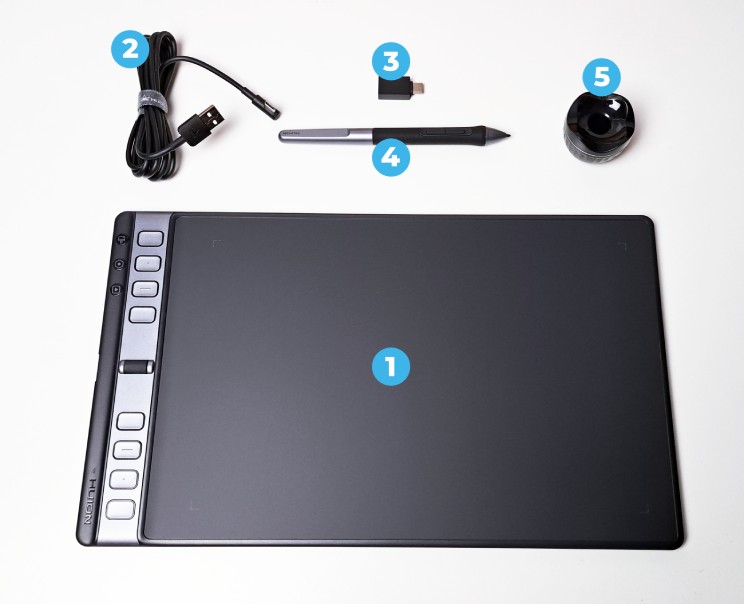 Here's what's inside, piece by piece:
Graphic Tablet
USB-C Cable
USB OTG Adapter
Stylus / Drawing Pen
Stylus Holder
2. Specifications
Here are the key specifications of the Inspiroy 2:
Dimensions
352.5 × 208.7 × 7.5~9.5mm
Working Area (PC Mode)
266.7 x 166.7 mm (10.5 x 6.56 inch)
Keys
8 Programmable Press Keys
3 Group Keys + Scroller
Stylus
Battery-free EMR
Tilt
±60°
Pressure Levels
8192
Resolution
5080 lpi
Reading Height
>10 mm
Report Rate
>260PPS
Ports
1 x USB-C
Compatibility
Windows 7 (or later)
Mac OS X 10.12 (or later)
Chrome OS 88 (or later)
Android 6.0 (or later)
HarmonyOS 2.0 (or later)
Linux (Ubuntu 20.04 LTS)
Click here for more information.
3. The Huion Inspiroy 2 L – Reviewed Piece By Piece
Now we'll take a closer look and review everything in detail.
The design, the accessories, the setup & driver, the keys & scroll wheel, the pen and finally the drawing performance.
3.1 The Design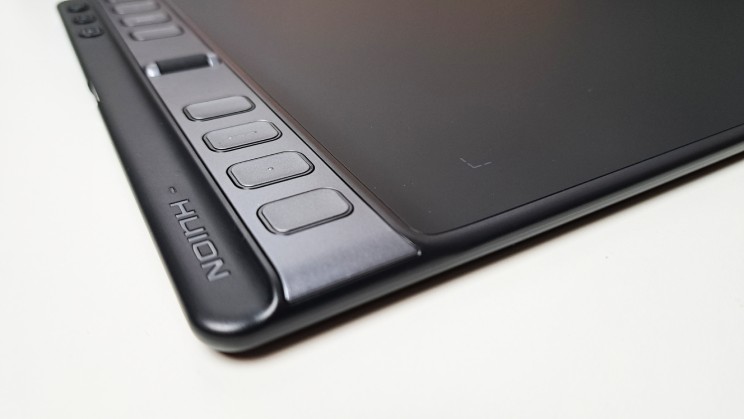 • minimalist black design
• made of plastic, but sturdy
The Inspiroy 2 L sports a minimalist black design. Everything is black / dark grey, except the bar that the keys and scroll wheel sit on.
This offers a nice visual change and accentuates the keys a little bit. It's nothing special design-wise, but all you need.
The whole tablet is made of hard plastic, there's no metal involved. Still, the tablet feels sturdy and not like a cheap throwaway product.
3.2 The Accessories
• adapter does its job
• stylus holder has 10 extra nibs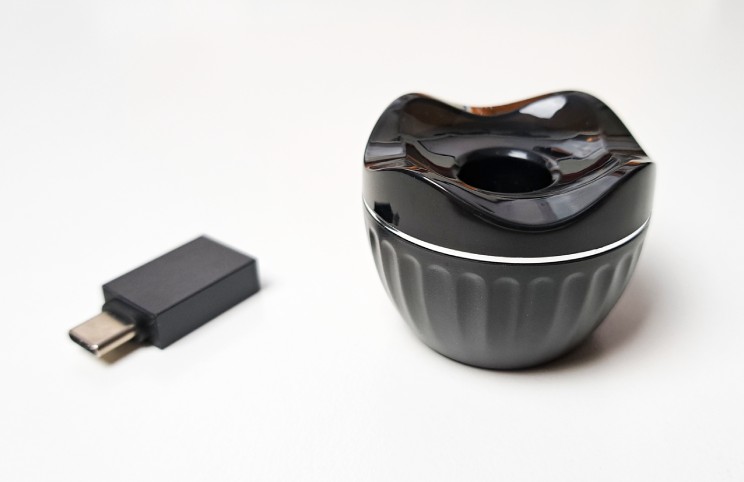 There aren't many accessories that come with this tablet, so there's not much to say here.
The stylus holder is alright. It does its job. If you unscrew it, it has 10 extra pen nibs inside. That's nice and should be enough for quite a few years… right?
The USB OTG adapter does what it's supposed to, as well. I guess you would want to use the tablet on a desktop computer anyway, wouldn't you? You can use it on a mobile device with that adapter though.
3.3 The Setup & Driver
• setup is super simple and quick
• driver software reacts fast
• offers lots of customization
I was quite impressed with the driver software of the Inspiroy 2 L.
The setup is super simple! I just clicked "install" and basically got the message "tablet installed" immediately.
No problems, no bugs, no errors.
Just plug in the tablet and you're ready to go in a matter of minutes.
The driver software also reacts extremely fast and without lag and offers a lot of cool customization options.
3.3.1 Setup Tips
Here are some tips for the setup of the Huion Inspiroy 2 L:
1. Make sure you have the newest driver installed
You can download it here.
2. Make sure your monitor and tablet size matches
Your monitor probably won't have the same aspect ratio as your tablet. Make sure to click on Pen Tablet and then on Working Area and set it to Screen Ratio: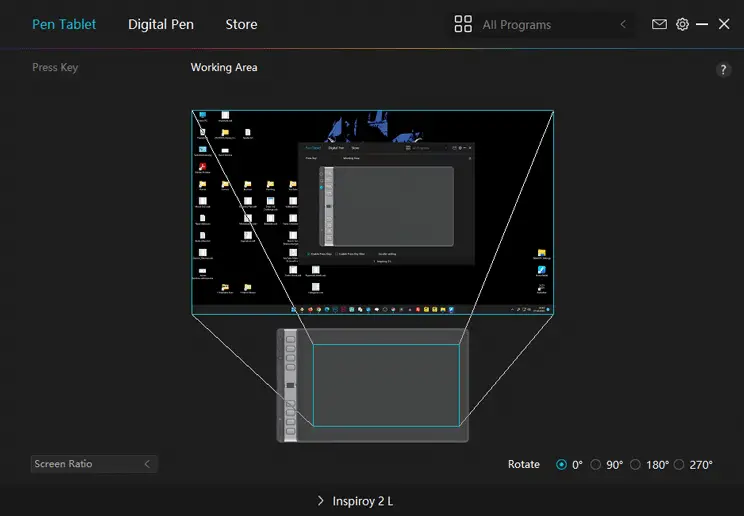 3.4 The Keys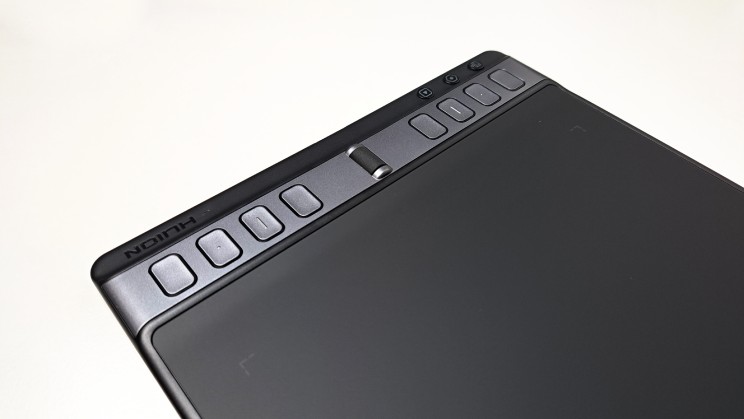 • has 8 customizable keys
• 3 extra keys to toggle between different modes
• 3 different modes x 8 keys = 24 keys to customize
The keys of the Huion Inspiroy 2 L are really something special.
At first, it doesn't look like much. It's just 8 keys, like on any other tablet.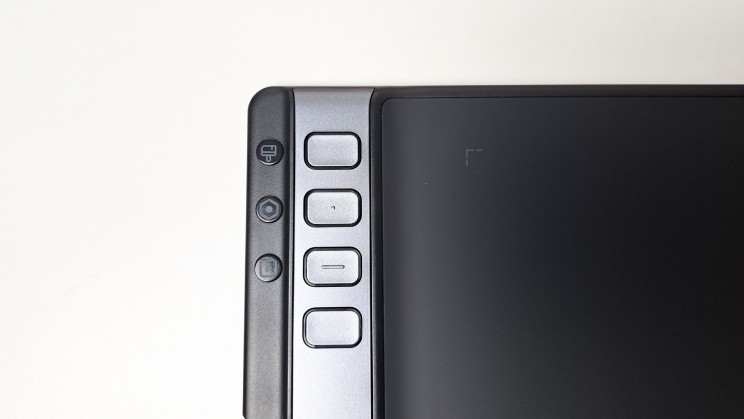 But then, you discover the 3 extra keys, the small black ones. I didn't find a way to customize them… because they have a different purpose:
Each key toggles one mode to use. And in each mode you can customize the 8 keys independently.
That means altogether you have 3 x 8 = 24 keys to customize!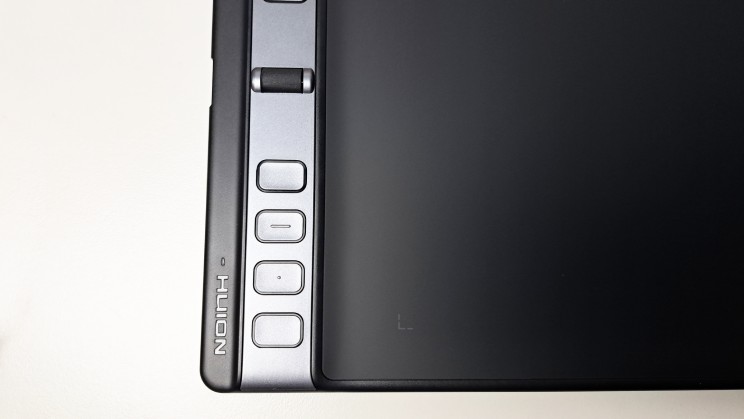 Why would you need that many keys? I don't know yet… but you could, for example, use one mode for the keys and shortcuts of your painting program – and another mode for "Windows-related" shortcuts. Or another mode to control your music app.
With that many key configurations, you don't really need a keyboard anymore!
3.5 The Scroll Wheel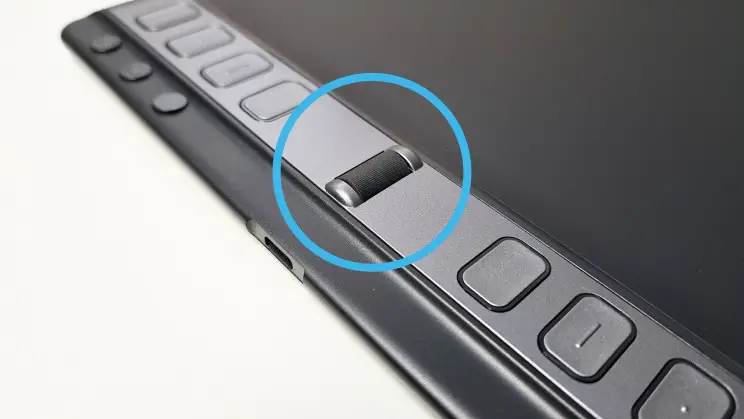 • offers great control over the navigation of your painting
The scroll wheel is nice. The standard function is zooming in and out and that's probably the best use for it.
It works flawlessly and it behaves the same way as when you zoom in Photoshop with the ALT key + mouse wheel:
It basically zooms exactly to the position your cursor is at the moment.
That way you can actually get great control over the navigation of your painting:
Move the pen and zoom in or out wherever you want!
3.6 The Pen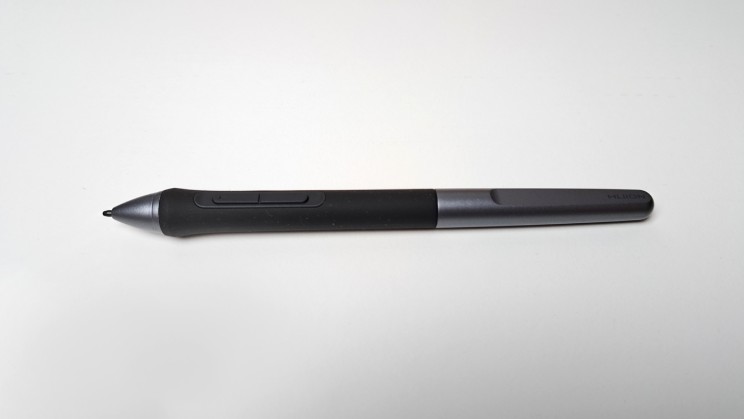 • has two customizable buttons
• lightweight
• uses cutting-edge Pentech 3.0
There's not much to say about the pen. It's made of plastic, but has some rubber coating for a firmer grip.
I've had tablets without the rubber coating and have to say that I like this better!
It's lightweight and fits nicely in the pen holder: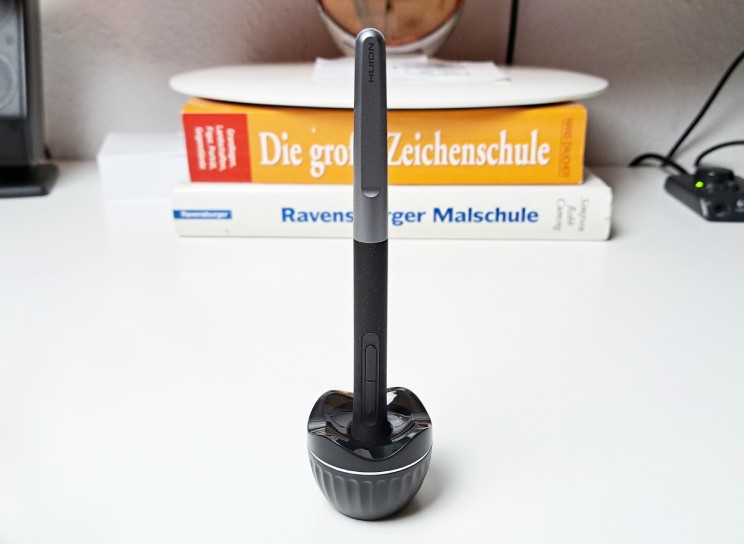 The pen has two buttons, which is nice. You might not need them, but at least it gives you more options for keys to customize, if you prefer to work without your keyboard.
The pen uses Pentech 3.0, Huion's newest technology for an accurate drawing experience.
Speaking of which:
3.7 The Drawing Performance
• reaction speed is pretty much instant
• very smooth lines – only minor issues with very fast strokes
• feels very natural, almost paperlike
• 8192 pressure levels offer good control over stroke thickness
Let's finally talk about the drawing performance:
3.7.1 Reaction Speed
The reaction speed of the stroke is pretty much instant. There's no noticeable lag or any problem like that.
Even at the largest brush size (tested in Krita) the reaction speed feels the same. There's at best a very minimal lag – but that has more to do with the computer and not the tablet itself.
3.7.2 Line Smoothness
The Inspiroy 2 L draws very smooth lines. I couldn't find any issues with that.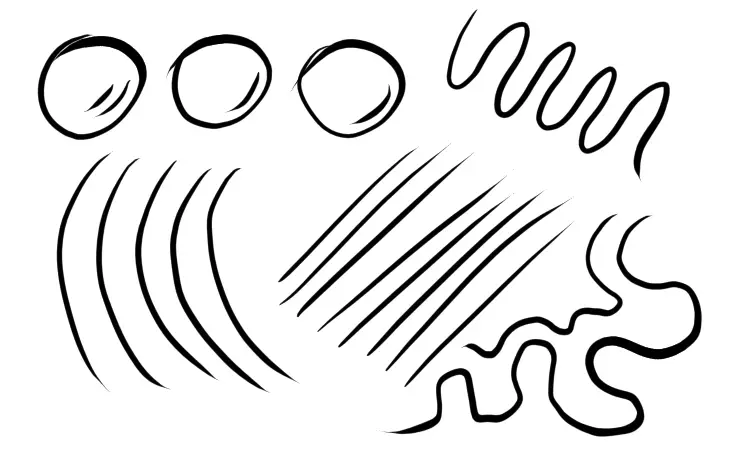 Only, if you draw very fast lines, you can notice how it isn't completely perfect anymore: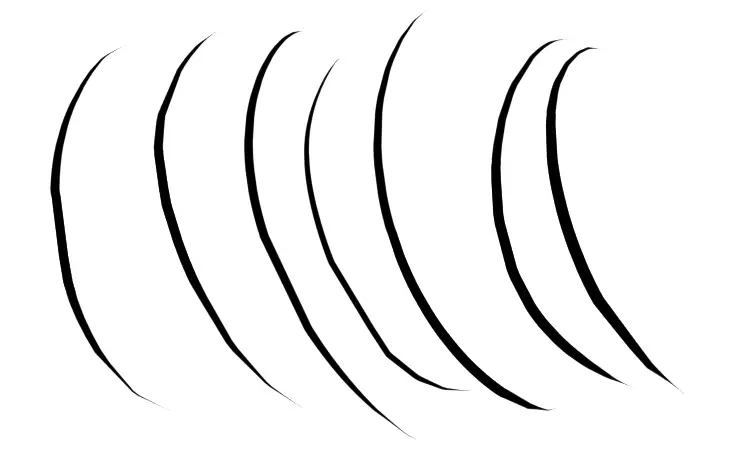 But I drew these so fast… I wouldn't actually draw long lines like this so fast in reality. In actual drawings, I had no issues.
One important point is that drawing on the tablet feels very natural, almost paperlike.
Huion increased the panel friction by 20% over the tablet's predecessor.
3.7.3 Pressure Sensitivity
The Huion Inspiroy 2 L has 8192 pressure levels. That's pretty standard, but offers good control.
Here's a line test of the pressure sensitivity.
I drew several curved lines, trying to control the pressure from thin to thick: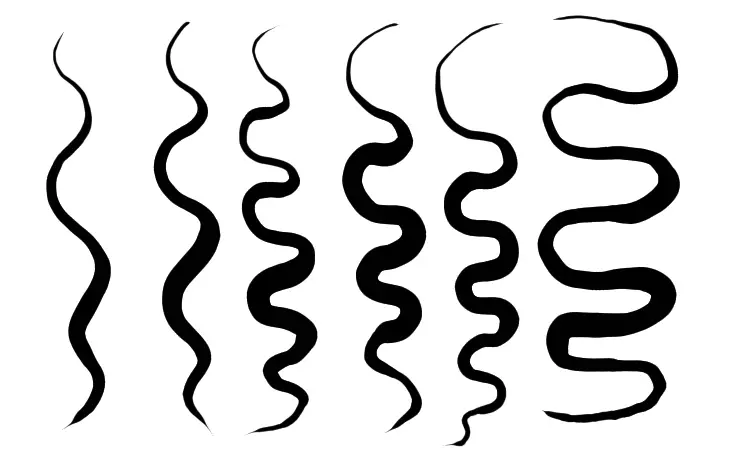 I think it's possible to control the pressure to a good degree. My example isn't perfect, but hey, it's a challenging exercise!
Pressure Sensitivity Tip
The pressure sensitivity of the Huion Inspiroy 2 L probably isn't set to be perfect for you.
What I would recommend is to go to the driver software (CTRL + ALT + H) and experiment with the different presets.
Go to Digital Pen -> Pressure Sensitivity Adjustment and click one of the buttons between the words soft and hard: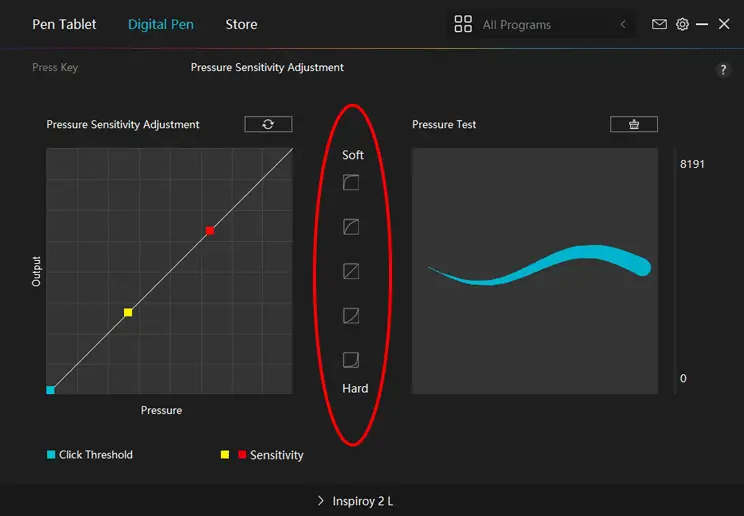 You can then test the pressure level by drawing in the box on the right: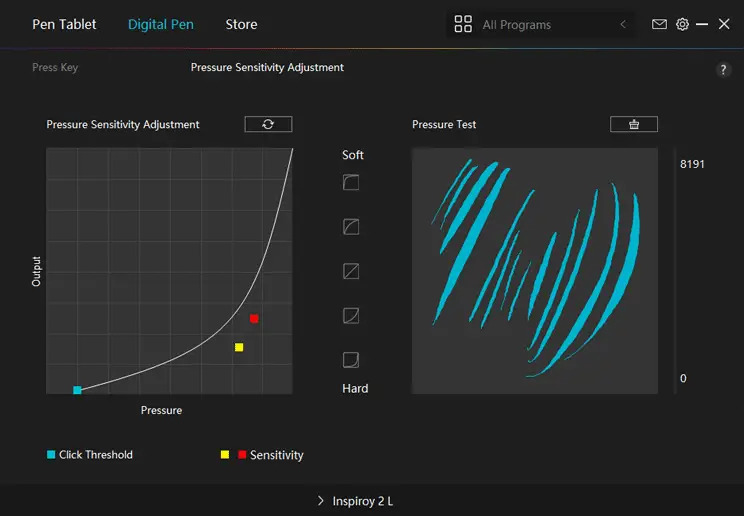 That way you can easily find a setting for the pressure that fits your drawing style best.
4. Should You Buy The Huion Inspiroy 2 L?
5. Alternatives To This Tablet
XP-Pen Deco 03
The XP-Pen Deco 03 is a tablet in a similar price range.
I haven't used it myself, but it has great reviews on Amazon.
It has comparable features to the Inspiroy 2 L, but the keyword here is wireless!

So, if you prefer to paint without cables in the way, like me, you might give this one a shot.
READ NEXT:
XP-Pen Artist Pro 16TP Review: Is It Worth The Money?